Records
Home
»
Kayak Fishing Catch Photos
» Me likes to do that fishing for fluke_2
Me likes to do that fishing for fluke_2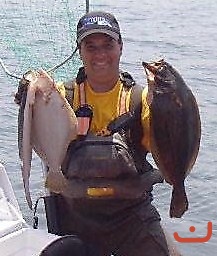 Image information
Description
If you're not targeting fluke, then you're missing out. Out of anything, this is my favorite species to target.
Date
Saturday, 05 February 2011
Exif-Data
Camera Make (Manufacturer)
PENTAX Corporation
Camera Model
PENTAX Optio W20
Date and Time of Original
2008:06:05 13:30:13
Image Rating
Please login first...
Comments for this image
Author
Comment
rubone47


Comment added on Thursday, 10 March 2011

---

would really like to see the rigs you used to catch those fluke ( you never posted any pics of them)
Guests are not allowed to post comments. Please register...
Send to Friend
Please login first...
Home
»
Kayak Fishing Catch Photos
» Me likes to do that fishing for fluke_2